The fourth annual month-long Finance and Administration inclusion initiative was held throughout August 2021. Every year, its purpose is to build workplace communities through small "everyday" moments of connection, reflection, and effort. Specifically, it provides ways for us to reflect on our implicit biases and address those biases by questioning our assumptions, reorienting our perspectives, and finding ways every day to learn with and about our colleagues, work place and world around us. In 2021, we also hoped the effort would help our 500+ employees connect -- or reconnect-- with each other and our campus after a challenging year, thanks to the pandemic. Everyday Inclusion 2021 is designed to help individuals connect with co-workers in meaningful, inclusive ways as well as reflect on how we engage with and understand others in the workplace, whether we've been working remotely or in-person.
"The last 16 months have presented new challenges for us as individuals, as colleagues and for our community. Some of us have been working from home, perhaps managing children studying remotely or getting used to meetings on Zoom.  Others have continued to come to campus every day, donning a mask and carefully keeping physically distanced from others. This year's Everyday Inclusion initiative provides a timely opportunity for us to reflect on the importance of connecting with our coworkers and our workplace, while engaging with issues of inclusion and diversity. I encourage each staff member to complete the weekly challenges, engage fully in your team activity, and participate in one of the virtual or in-person sessions-- including a new scavenger hunt-- hosted by the diversity committee this year." Jamie Moffitt, VPFA/CFO
Everyday Inclusion aims to build workplace communities through small "everyday" moments of connection, reflection, and effort. It also aims to help us reflect on our implicit biases and make efforts to address those biases by questioning our assumptions, reorienting our perspectives, and finding ways every day to engage in learning with and about our work colleagues and work place.
Ways people got involved
Participated in activities with work teams. Supervisors hosted Everyday Inclusion activities for teams during the month of August.
Tried some of the weekly challenges (listed below). These were also emailed to all VPFA staff at the beginning of each week in August. 
Registered to take part in one (or more) of the activities hosted by the VPFA diversity committee. There were a mix of virtual and in-person options comprising valuable personal and professional development opportunities.
Attempted an Everyday Inclusion 2021 scavenger hunt. There was an on-campus hunt and a virtual option. People completed them at their leisure--all at once or in multiple parts--throughout August. The first 20 people to send completed submissions for either hunt received a bag of goodies!
On-campus scavenger hunt (download, print, and complete OR complete the online version as you move around campus)

The hunt takes around 90 minutes and does NOT have to be completed all at once--if you are on campus regularly you can do different parts on different days. If you come to campus for the hunt, we recommend a break after the first 10 questions, which take about 60 minutes. The last 10 questions take about 30 minutes, depending how fast you walk/roll.
The on-campus scavenger hunt answers are available for download (contact vpfadiversity@uoregon.edu if you find any errors)
NOTE: We did our best to create accurate, interactive scavenger hunts focused on (re) connecting with the places and people of the UO. If we inadvertently got something wrong, please let us know at vpfadiversity@uoregon.edu.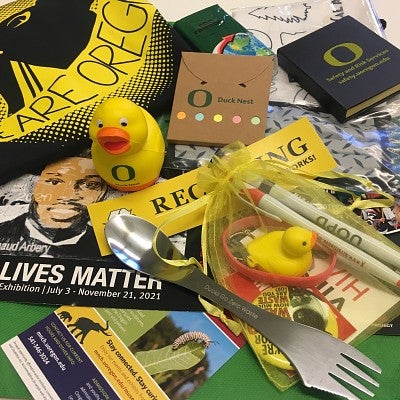 The first 20 people to complete and submit a scavenger hunt received a swag bag with goodies from various units in our portfolio and across campus. No two bags were exactly the same, but included swag from:
CPFM Facilities - Zero Waste
Print Services
Safety and Risk Services
UO Police Department
CPFM Utilities and Energy
The Jordan Schnitzer Museum of Art
The Museum of Natural and Cultural History
The Duck Nest (University Health Services)
Erb Memorial Union (EMU)
HIV Alliance
How does the gift card drawing work?
People who participated in Everyday Inclusion 2021 were entered into a drawing for one of the following:
20 Duck Bucks cards to spend on campus
10 Nike gift cards
Gift cards to the following local businesses

Eugene: Evergreen Indian Cuisine, Equiano Coffee, Masa's Yatai, Nelson's Taqueria, Noisette Pastry Kitchen, Once Famous Grill, Stingray Botanicals, Vietnam Restaurant
Springfield: El Metate Tortilleria, Noodle N Thai
There were many ways to be entered into the drawing. People could:
Complete the online commitment survey
Register for and attend one of the activities listed below
Submit completed scavenger hunt materials via email or drop box (include your name, date, and email address)
Participate in a departmental activity or weekly challenge and let us know you did that (email vpfadiversity@uoregon.edu)
Every time people engaged in one of the ways above, their name went into a 'hat' so the more times they participated, the more chances they had to win a gift card. People were be limited to winning one gift card (winners' names were removed from the 'hat').
WEEKLY CHALLENGES
RESOURCES
Connecting with People
The difference between being "not racist" and antiracist, Ibram X. Kendi (video, 2020, 51 minutes)
How to be anti-racist: it's more than books, quotes, and Blackout Tuesday (video, Washington Post, 2020, 5:35)
Blind spots: Challenge assumptions, PwC (video, 2017, 2:19)
Using inclusive language, University of Oregon resource.
How microaggressions are like mosquito bites (video, 2018, 2 minutes)
Transgender Inclusion in the Workplace: Transitioning at Work, Human Rights Campaign (video, 2016, 4:11)
How to be more Empathetic, Claire Cain Miller, New York Times (Access a free NYT account for UO staff)
Confronting Prejudice: How to Protect Yourself and Help Others (written resource, Pepperdine University, July 2019)
10 steps to effective listening, Forbes, Diane Schilling, November 2012
The 10 best diversity advocates to follow on social media, The Hill, Austa Somvichian-Clausen, December 2019
The danger of hiding who you are, Morgana Bailey (video, 2015, 10:27)
Seniors defying age stereotypes, Intuition Robotics, 2019
The Militant Baker website, Jes Baker (body positivity)
Respect and Inclusion at Deloitte (video, 2015, 3:29)
Consider privilege from an non-disabled perspective (two pages of points to consider)
Connecting with Place
Oregon Black Pioneers and Racing to Change: Oregon's Civil Rights Years tour (includes a video lasting about 10 minutes and a 360-photo virtual tour of the original Portland exhibit).
Story of Ron Stockman: 'Son' of the first black family in Eugene (courtesy of Steve Stuckmeyer).
A Mother to Many, Register Guard, Aug 30, 2010.
New marker honors one of Eugene's founding black families, Register Guard, May 31, 2018.
A Hidden History, Oregon Humanities, Walidah Imarisha, August 13, 2013.
How is Oregon doing with its efforts to dismantle systemic racism?, OPB, broadcast May 28, 2021 (33-minute audio program; transcript available).
Honoring the Kalapuya, Nearby Nature resources.
Oregon to recognize Indigenous People's Day, Sam Stites, OPB, May 18, 2021.
Resources from the Division of Equity and Inclusion (DEI)
(See all racism interrupters and ideas for unpacking white privilege on the DEI Instagram page in the highlights section)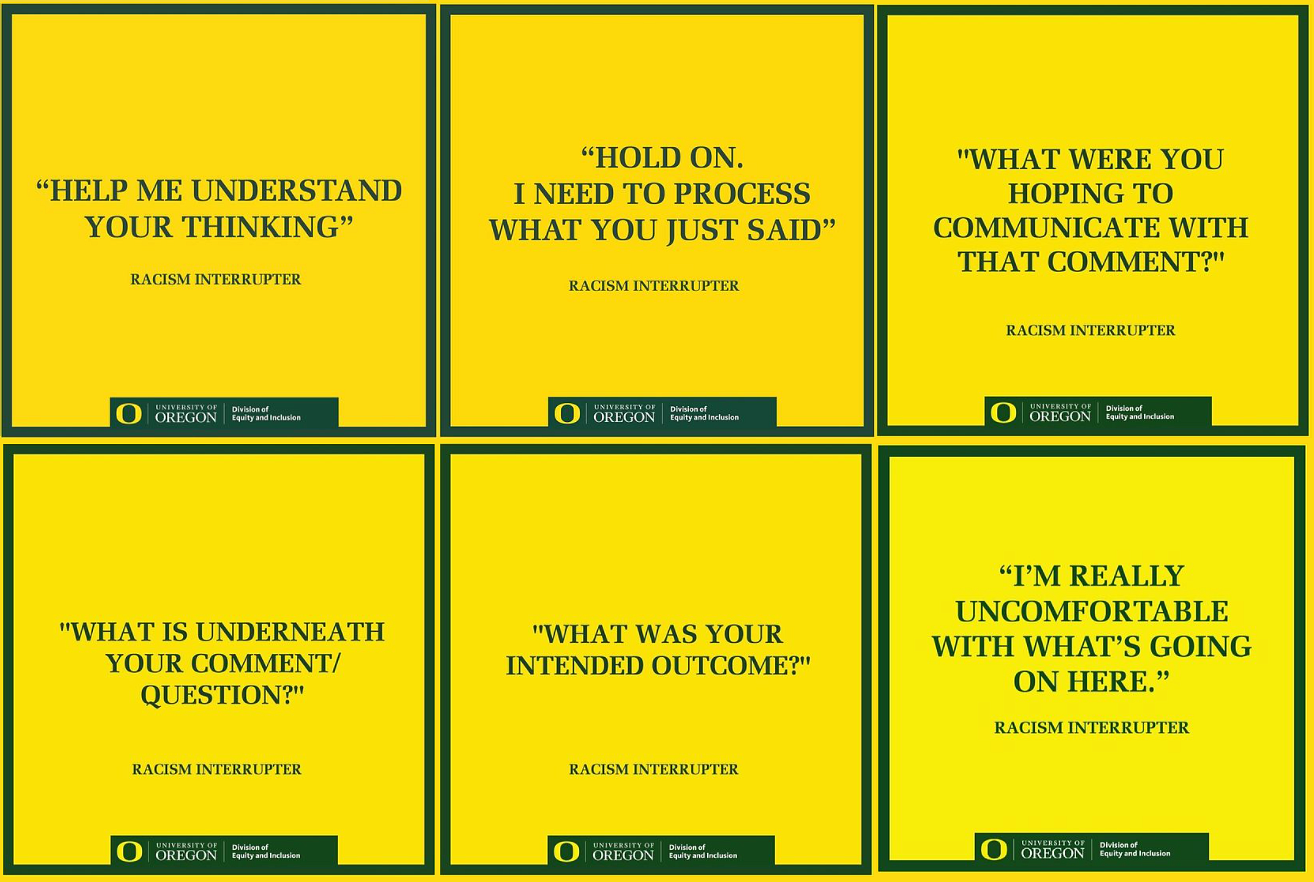 Activities Hosted by the VPFA Diversity Committee
ACTIVITY
FACILITATOR
DATE, TIME, LOCATION
FORMAT
WEEK ONE: Aug 2-6
 
 
 
A Journey toward Everyday Inclusion: Stories, Tips, and Questions from the Mills Center
Sara Clark and Sonja Rasmussen, Mills International Center

Wednesday, August 4, 1:00-1:50pm

Virtual
JSMA tour: Black Lives Matter Artists Grant Program Exhibition
John Weber, Director, JSMA

Thursday, August 5, 11:00am-12:00pm, Jordan Schnitzer Museum of Art

In person
WEEK TWO: Aug 9-13
 
 
 
They Are Not Too Young: Raising Children in a Diverse World
Tamara Clark, Vivian Olum Child Development Center

Thursday, August 12, 1:00-2:00pm

Virtual
WEEK THREE: Aug 16-20
 
 
 

Guided tour of Racing to Change: Oregon's Civil Rights Years - The Eugene Story 

**Choice of two tour times on the same day**

MASKS REQUIRED

Ali Litts (exhibition docent) and Jane Brubaker, CPFM Facilities

Tuesday, August 17, 10:00-11:00am OR 11:00am-12:00pm

In person
We are Neighbors, online play telling the true stories of courage, hopefulness and resilience of immigrants living in Lane County.
Community Alliance for Lane County (CALC)

Thursday, August 19, 3:00-4:00pm

Virtual
Women's History in the Campus Built Environment: on-campus tour
Liz Thorstenson and Ivy Pitts, Campus Planning

Friday, August 20, 10:00-11:00am

In person
FINAL WEEK + BONUS DAYS: Aug 23-31
 
 
 

JSMA tour: Black Lives Matter Artists Grant Program Exhibition (repeat tour)

MASKS REQUIRED

Elizabeth Larew, Collections Assistant, JSMA

Tuesday, August 24, 9:00-9:45am

In person
Understanding the Importance of Tribal History/Shared History Senate Bill 13
April Campbell and Brent Spencer, Office of Indian Education, Oregon Department of Education

Tuesday, August 24, 2:30-3:30pm

Virtual
Women's History in the Campus Built Environment: on-campus tour (repeat)
Ivy Pitts, Campus Planning, and Jane Brubaker, CPFM Facilities

Thursday, August 26, 10:00-11:00am

In person
The University of Oregon is strongly committed to providing access and reasonable accommodation in its services, programs, activities, education and employment of individuals with disabilities. Requests for disability-related accommodations or sign language interpreters should be made to vpfa@uoregon.edu. We ask that requests for accommodation please be made at least five business days before the event.
Other VPFA Inclusion Initiatives