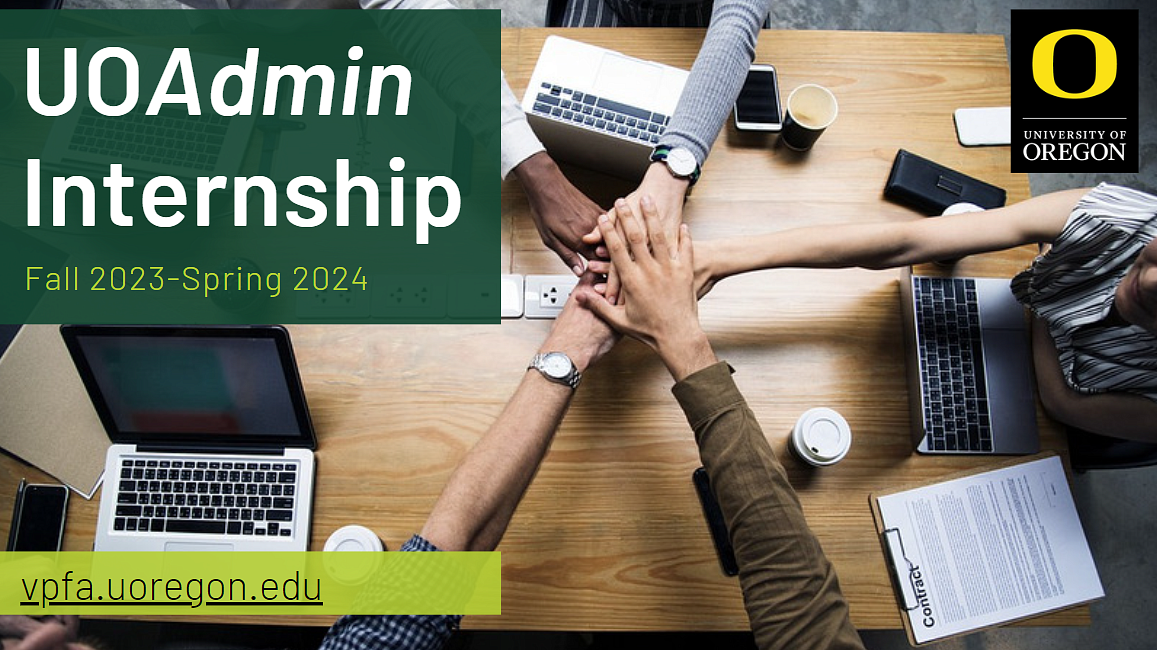 Are you curious to learn how a university works?
Finance and Administration is an area of the university made up of 35 units, or departments, that provide key financial, facilities management, human resource, and administrative services to campus. These departments directly serve and support all aspects of campus life and report up through the senior vice president for finance and administration (VPFA) and chief financial officer (CFO). Read more about our departments' key services below.
The UOAdmin Internship is a paid internship that offers a cohort of 12 students experience in up to three of our departments over the course of an academic year (fall, winter, and spring terms). Through this program, a diverse group of students will gain insight into the units that serve and support many aspects of campus life, while building work experience and practical skills in the field of higher education administration.
Eligibility Criteria and Application
What makes our program unique?
Our Interns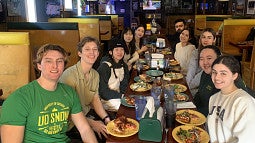 The Finance and Administration portfolio will host the fifth cohort in the UOAdmin Internship program starting fall 2023. The program will bring together a 12-student cohort from diverse backgrounds and experiences to engage with projects in three different Finance and Admin departments between fall 2023 and spring 2024. Students will bring their unique perspectives to our workplaces to learn more about our role in making the university operate effectively. Learn how previous interns enjoyed their internship.
In 2023-24, each intern will:
Start the internship in week 1 of fall term 2023--orientation will be held the week before fall term.
Spend 1-2 hours a week in professional development and internship preparation activities during each term.
Commit to 10 hours per week for 10 weeks each term (fall, winter and spring) immersed in a different department within the Finance and Administration portfolio, working with a different mentor/supervisor and team.
Earn up to $1,500/term (depends on how many hours you actually end up working--the goal is 100 hours per term).
Engage in meaningful real-world projects specific to each department. These projects will be linked to each intern's learning goals; interns will build skills useful in administrative positions in higher education as well as the public and private sectors.
Connect with the 12-intern cohort, each of whom brings a unique background and perspective to the program.
Participate, with other interns, in professional development sessions throughout the year. Topics include: CliftonStrengths, effective networking, project management, diversity in the workplace, leadership, navigating HR, budgeting in higher education, and job interview/application skills.
Engage in networking opportunities throughout the year. These will include meetings with key UO leaders, specialized tours, and interactions with employees from across the institution.
Work toward meeting learning objectives and participating in active reflection and evaluation after each project. This internship is appropriate for students who would like to earn internship credit.
Our Projects
Central to the UOAdmin internship is the completion and presentation of practical projects during each term. Each project has real-world impact and is linked to learning objectives and skill-building goals identified by interns themselves. Projects will have direct benefits for the operation of the department. Projects vary each year depending on the needs of the host departments. Here are some examples of the projects completed in previous years:
Campus Planning and Facilities Management

Creating energy management dashboards for the UO central power station (CPFM Utilities and Energy)
Designing and updating the Facilities Services Learning Library
Building a spreadsheet-based financial model of costs associated with natural gas consumption over the next 30 years
Campus Planning

Creating and publicizing new tours on topics such as indigenous history and the Black experience on campus
Developing communications materials

Sustainability

Creating a Green Events Guide
Learning about and presenting on the UO fleet electrification transition plan
Collecting data needed for the AASHE STARS report (a comprehensive assessment of campus sustainability performance)
Information Services

Redesigning the Information Security Office web presence
Data tracking and reporting using the UO Learning and Management System
Presenting costing and future scenarios for UO cloud computing services
Research, data analysis, and visualization
Human Resources

Researching and proposing a staff mentor program and learning/development certificate
Helping to plan and implement the annual campus-wide "Take Your Children to Work Day"
Planning, preparing, and executing employee recognition and engagement events with Programs and Services
Conducting a SWOT analysis of the exit interview process for Employee and Labor Relations
Researching inclusive recruitment best practices and incorporating these into a campus-wide toolkit for the UO Talent Acquisition team
Safety and Risk Services

Developing event plans for the annual week-long Risk and Resilience Summit at the UO
Working with the GIS team to update campus mapping tools, improving user accessibility
Researching and presenting information on insurance deductibles in higher education, for the Risk Management & Insurance group
Developing and implementing a community-based education project with the UO Police Department
Creating short, task-specific, online training sessions for new employees in CPFM and Housing Food Services
Transportation

Researching and making recommendations to improve the UO Bike Safety Program
Proposing and analyzing options for a fixed route daytime shuttle around campus
Preparing a financial analysis for a university-wide zonal parking permit program for Transportation Services
Other

Delivering a budget report to a client unit with related analysis on budget-to-actual spending (Finance and Administration Shared Services)
Creating user guides and updating the Print Services website.
Planning a milestone anniversary event for the Vivian Olum Child Development Center.
Occasionally we have repeat projects, but many of them are new each year. The 2023-24 projects will be confirmed by fall 2023 depending on host department needs and the skills and interests of the selected cohort.
Our Commitment to Diversity
One goal of the UOAdmin Internship Program is to bring together students and staff with a wide variety of experiences and backgrounds, enriching our workplace and exposing students to the work of university operations. We are committed to enhancing the diversity of employees who work in the fields specific to Finance and Administration at our university and elsewhere. We hope that participation in the UOAdmin Internship Program inspires some of our students to explore careers in our departments and in departments like ours at other institutions. For more information about our other diversity efforts, visit this page showing an overview of the portfolio initiatives.
Our Teams
Finance and Administration is comprised of about 35 units, or departments, that provide key financial, facilities management, human resource, IT, and administrative services to campus. These units are grouped in eight main areas below. The teams of staff who make up these units directly serve and support all aspects of campus life, report to the university's chief financial officer and senior vice president for finance and administration (VPFA). For a visual overview, see the Finance and Administration portfolio organizational chart.  
MAIN AREAS
UNITS / DEPARTMENTS
Business Affairs

Financial Services: General & tax accounting, property control.

Travel: Travel reimbursements, moving/relocation expenses.

Student Financial Services: student billing, cashiering.

Payroll: Payroll processing & reports.

Information Systems: Web development, payment card compliance.

Treasury Operations: Internal and external debt management, banking relationships.

Budget and Finance Units

Budget and Resource Planning: Annual budgetary process management, budgetary assistance, financial reports, analysis, projections.
Institutional Research: Analytical support to UO decision makers, research for institutional self-assessment, UO compliance reporting.

Campus Planning and Facilities Management

Campus Planning: Space planning, campus planning, real estate.

Design and Construction: Small projects, capital projects, engineering support, construction retainer contracts, project accounting.

Facilities Services: Carpentry, painting, plumbing, central support, custodial services, exterior/landscape, HVAC, electrical, locks and doors, work control center, mobile equipment repair.

Utilities and Energy: Central power plant, electrical distribution, energy purchase and management, steam and chilled water distribution.

Office of Sustainability: Integrate sustainability into UO operations, curriculum & research through policies, projects, monitoring, and outreach.

Campus Services

Print Services

: Digital and offset printing, EMU Campus Copy, bindery services, copyright clearance, university-wide fleet copier program management. 

Transportation Services

: Transportation planning and options, access shuttle, driver certification, parking services.

Finance and Administration Shared Services

Business Operations: Budget and finance, procurement and contracting, accounts payable and travel.
Information Technology: IT support.
Human Resources: Labor contract administration, recruitment resources, staff development.
Mail Services: Warehousing and stores, mailing services.

Human Resources

Employee and Labor Relations: Union negotiations, grievance management, conflict resolution, policy administration, Affirmative Action guidance, ADA accommodations.

HR Operations: Personnel actions, employment records.

Classification and Compensation: Advising and consultation on reorganizations and compensation considerations.

Talent Acquisition: Employee recruitment, international employment.

Programs and Services: Benefits (retirement, insurance), medical leaves, employee recognition, work-life resources, HR service center.

Retirement Plans Management: Administers five retirement plans used by the seven Oregon public higher education institutions.

Information Services

Enterprise Solutions: Identity and directory services, application services, middleware and application development, data management, ICT accessibility
Customer Experience: User Support Services, communications, IT program and project management, IT service management, enterprise software licensing, classroom tech support, media services
Information Security
Technology Infrastructure: Network and telecom services, systems and operations, Link Oregon, and Research Advanced Computing Services (RACS)

Safety and Risk Services

Campus Geographic Information Systems (GIS): Custom mapping, software development, spatial data analysis and hosting, project collaboration and support.

Emergency Management & Continuity: Training and outreach, business continuity planning, emergency planning, incident management.

Environmental Health and Safety: Research safety, environmental compliance, building sciences, occupational health and safety, hazardous materials.

Risk Management: Insurance, property claims, waivers of insurance.