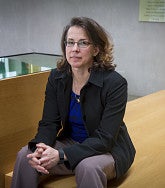 "As supervisors it can be both challenging and rewarding to lead teams. Research shows that the care and commitment that we all take in managing staff is absolutely critical to the success and well-being of our employees and the institution. For some time, I've been envisioning a program that could support and strengthen the skills of VPFA supervisors to manage the complex challenges of leadership across a wide variety of operational areas. I'm excited to share that vision has come to fruition. The VPFA Leadership Excellence and Development Series (LEADS) has been developed as an investment in our supervisory staff to help each of us thrive in our roles as team leaders."
Jamie Moffitt, Senior VPFA and CFO
Training Content
The pilot cohort of LEADS was held January-June 2023 and the next cohort of approximately 24 supervisors will run July-December 2023.
VPFA LEADS was constructed with three areas of focus:
Soft skill development such as effective communication, engagement, and conflict resolution,
Technical skill development in areas such as labor relations, including information about UO-specific labor contracts, that supervisors need to be effective in their roles, and
Networking opportunities for supervisors across different departments
Each cohort is guided through six skill-development sessions over the course of six months. The content areas are as follows:
Training Dates for July - December 2023
All sessions are scheduled as in-person training--there are no remote participation options at this point. Full-day sessions will include breakfast and lunch. Half-day sessions will include breakfast. These are the dates for the July-Dec 2023 LEADS sessions--it is unlikely that these will change but there is always that possibility.
Tuesday, July 11: 8:30am-4pm
Wednesday, July 12: 8:30am-4pm
Tuesday, August 8: 8:30am-1pm
Wednesday, September 20: 8:30am-1pm
Tuesday, October 10: 8:30am-1pm
Tuesday, November 7: 8:30am-1pm
Tuesday, December 12: 8:30am-1pm
Frequently Asked Questions
Which VPFA (Finance and Administration) supervisors are required to participate in the LEADS training?
Content is designed to be interactive and valuable for supervisors in every stage of their career, from emerging managers to seasoned leaders. VPFA LEADS will will continue to be offered twice yearly to allow all VPFA supervisors an opportunity to participate. See the VPFA org chart to understand more about the departments that are part of the portfolio.
How much does the program cost?
There is no department cost for this program.
I am a supervisor in the VPFA portfolio. I want to participate but I am unable to attend all of the scheduled trainings. May I still sign up?
Participants are asked to commit to attendance at all sessions. If you have an unavoidable conflict with one of the sessions, please let us know. Depending on which session you are unable to attend, we may be able to offer a make-up opportunity at a later date.
Is there a remote or hybrid attendance option?
Sessions are currently being held in person. A fully remote training program will be held in the future to accommodate VPFA supervisors whose workplaces are not located on the Eugene campus and are therefore unable to attend a the training series in person.
How do I apply for the program?
Please nominate yourself or a colleague for VPFA LEADS online: https://oregon.qualtrics.com/jfe/form/SV_eERGKnKx0JpyYNo. Applications are due by June 9th--there are still a couple of places available if you would like to attend.
Who completed the inaugural LEADS cohort in Jan-June 2023?
Adrian Cruz, Shuttle Program Manager, Transportation Services
Brady Nittmann, Director of Academic Budget, Budget, Financial Analytics and Data Analysis
Brittany Jayne, Assistant Director of Employee and Labor Relations, Human Resources
Brooke Millett Montgomery, Travel Manager, Business Affairs
Crystal Farset, Retirement Benefits Coordinator, Retirement Plans Management
Haily Griffith, Occupational Health & Safety Manager, Safety and Risk Services
James McGladrey, Assistant Director Field Operations, Transportation Services
Joe Mailander, Assistant Director Network Operations, Information Services
Jon Miyake, CyberSecurity Operations Center Manager, Information Services
Justin Grishkin, Construction Services Manager, CPFM Facilities Services
Kathleen Brown, Accounts Receivable Manager, Business Affairs
LeAnna Pitts, Assistant Director Work Control, CPFM Facilities
Lisa Howard, Director, Business Operations, Finance and Administration Shared Services (FASS)
Lisa Taylor, Assistant Director Risk Management and Insurance, Safety and Risk Services
Melissa Koval, Assistant Director, FASS Human Resources
Melodie Moore, Presentation Services Program Specialist, Information Services
Mike Glover Moresi, Knowledge Manager, Information Services
Rosalee Clanton, Landscape Supervisor, CPFM Facilities Landscape
Stuart Mellor, Financial Reporting Manager, Business Affairs 
Tom Shepard, Senior Associate Director of Capital Projects, CPFM Design and Construction
Travis Shea, Business Intelligence Manager, Information Services
Who do I contact if I have other questions?
If you have further questions about VPFA LEADS, contact Deborah Butler at deborahb@uoregon.edu or 541-346-3046.