Building on the successes of our Implicit Bias Awareness Month in 2018, the Finance and Administration portfolio focused on "everyday inclusion" in February 2019. In 2018, we discussed implicit bias and the importance of trying to remove conditions where unconscious preferences can unintentionally adversely affect others. In 2019, we built on this concept to try to improve inclusion in our workplace-- every day.
"We know that implicit bias and unconscious preferences are just that: unconscious. It is difficult to overcome them without sustained and deliberate attention and action. We need to find ways to reflect on our individual world view so that we can become more aware of-- and more open to-- the views of people different from us."
-Jamie Moffitt, VPFA/CFO
Practicing "everyday inclusion" means that we accept that we all have unconscious or implicit biases, but that we want to rise above them to improve inclusivity and connectedness in our everyday workspaces.
Participating is as easy as 1-2-3! Throughout February 2019, employees were encouraged to: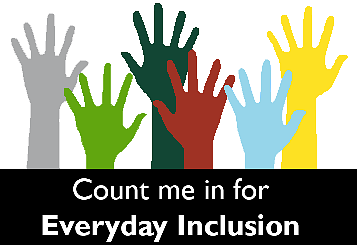 1) Agree to be "Counted In" for Everyday Inclusion by watching a two-minute video and submitting your name.
(2) Choose some "Everyday Inclusion" challenges to complete each week. You'll receive a weekly list of challenges. Here are two examples: (a) Invite a coworker to watch this video with you, then talk about it; (b) take a moment to reflect on how you react when someone makes a negative social or cultural comment.
(3) Participate in various in-person activities scheduled throughout February. Your supervisor or unit director will also set up an activity for your work team to do together.
What is everyday inclusion?
Actively including others and building community are the responsibility of-- and should be a priority for-- every employee. What does it look like? Inclusion is created through small "everyday" moments of connection, reflection, and effort. (Fessler) This can include larger-scale efforts like revisiting the steps that make up our recruiting and onboarding processes or increasing the ways we actively value all of the people within our organization, to smaller things like making sure credit is given for ideas and contributions; and consistently checking ourselves to ensure our implicit biases aren't getting in the way.
Why is the portfolio talking about everyday inclusion?
Many VPFA employees understand that they have implicit and unconscious biases, and they have indicated a desire to learn practical strategies for dealing with these biases in everyday life. Making small efforts on a regular basis can provide some strategies to combat implicit bias. At the very least, this will increase connections between employees and improve inclusion, albeit on a small, manageable scale. 
There is research to back this up: MIT Adjunct Professor of Negotiation and Conflict Management at the MIT Sloan School of Management, Mary Rowe, argues that micro-affirmations, or "tiny acts of opening doors to opportunity, gestures of inclusion and caring, and graceful acts of listening," are ways to mitigate unconscious bias and make up for some of the damage caused, and potentially lessen behavior associated with implicit or unconscious bias. (Rowe, MIT, 2008)
Who should be participating?
All members of the Finance and Administration portfolio are encouraged to participate in this month-long initiative in some way. We have created a variety of ways to do this: individually, with your co-workers, or as part of in-person activities open to the entire portfolio.
How does this fit into my job, my unit/department, my place at this university?
This inclusion initiative is part of the VPFA Diversity Action Plan commitment to "create an inclusive and welcoming environment for all" (DAP, p. 6) and the university-wide IDEAL framework on equity, inclusion, and diversity. Everyday Inclusion asks us to think about our wider community, regardless of job title, rank, race, ethnicity, gender expression, national origin, age, political affiliations, religion or disability. It is an opportunity to engage in learning within our workplace, connecting in some part with the wider UO mission to generate big ideas. Everyday Inclusion also reminds us that we can make a commitment to work better together, bridge divides, and connect with our wider university community.
What will I gain from this initiative?
Depending on how you engage with the Everyday Inclusion initiative, you could benefit in a variety of ways, such as:
gaining new strategies for connection and inclusion when you sign up for the challenges;
connecting in-person-- finding commonalities and different perspectives-- with colleagues in your work team and in other departments;
learning about your implicit biases when you take one of the 14 Harvard "Project Implicit" assessments;
reflecting on how to foster a more inclusive workplace; and
sharing your experiences and point of view with colleagues as you engage in specific Everyday Inclusion activities.
How do acts of everyday inclusion help?
Research from Stanford University's Persuasive Tech Lab indicates that it is better to work on new, positive behaviors rather than trying to avoid negative ones. Small everyday, relatively easy acts of inclusion could help create such positive behaviors and connections in the workforce.
How can I learn more about practicing everyday inclusion?
Read articles, watch videos, and/or try some activities listed on the Everyday Inclusion: Resources and Activities page.
Other VPFA Inclusion Initiatives