We completed our third annual month-long portfolio-wide inclusion initiative, Everyday Inclusion, in February 2020. As part of Everyday Inclusion, all 600 staff members in the Finance and Administration portfolio engaged in activities aimed at helping us pause from busy day-to-day work, and to reflect and connect with our coworkers in a new way or around a novel topic.
"I'm very excited about Everyday Inclusion 2020. This is our third annual month-long division-wide inclusion effort. This initiative gives us each a chance to reflect on issues of diversity, community and inclusion, and gives us a chance to connect with each other through discussion related to these topics." - Jamie Moffitt, VPFA/CFO
In other words, Everyday Inclusion was a month of opportunity. Over the course of February 2020, our employees had the chance to pick from a broad range of activities, large and small, as well as participate in at least one exercise with their work team.
artful inclusion
One activity included employees from every area of the Finance and Administration portfolio: Artful Inclusion!
Led by Sue Russell--a diversity committee member from HR--employees were invited to create their own visual pieces of art. These were completed during group art sessions, departmental activities, and individually throughout February. Individual creations were gathered to create a collective piece celebrating inclusion.
View the digital collage here.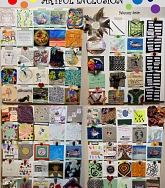 Check out our previous initiatives:
What is Everyday Inclusion? Everyday Inclusion is about connecting with co-workers and actively including others at work. Building workplace communities are the responsibility of-- and should be a priority for-- every one of us. Inclusion is created through small "everyday" moments of connection, reflection, and effort. (Fessler) This can include larger-scale efforts like revisiting the steps that make up our recruiting and onboarding processes, or increasing the ways we actively value all of the people within our organization. It is also the smaller things, like making sure credit is given to someone for their ideas and contributions, or really considering how one's implicit bias might be impacting how we interact with a particular colleague or approach a particular work task.
Why did we do this? Fighting implicit, or unconscious, bias is an ongoing process, not a one-time event. We need to keep having conversations that help us recognize our biases and make good decisions to ensure fairness. This involves building a culture of support: supporting all of us to grow, recognize our biases, and find ways every day to counter our unconscious preferences and assumptions. Taking the time to connect with co-workers, ask questions, and learn more about our work colleagues brings us together as a learning community within the university.
How could people get involved?  There were lots of ways to engage in Everyday Inclusion 2020.
1. Watch a 2-minute video on inclusion and submit your name. (This helps us get a sense of how many staff watched it.) Click on the hands-up image to the right.
2. Participate in activities with your department. Supervisors, diversity committee members, and other members of work teams facilitated at least one activity in each Finance and Admin department during February.
3. Engage in Everyday Inclusion weekly challenges. These were emailed to staff every week and included solo activities for reflection as well as topics for discussion and engagement with coworkers.
4. Sign up for one of the tours, talks, or workshops hosted by various members of the VPFA diversity committee. Each week, there were at least two activities to choose from (see schedule below).
5. Optional: Complete the prize drawing we send with the weekly challenges to let us know how you're participating and be entered into the drawing. In March, 20 participants will be randomly selected to receive $10 to a range of coffee shops and eateries on campus. (Announcements will be made when regular campus operations resume and selected employees can use the Duck Bucks.)
Being ourselves and feeling like we belong
Time to rethink bringing your whole self to work? Randall S. Peterson, Forbes, April 1, 2019
Why you should bring your whole self to work, according to science, Rebecca Muller, Thrive Global, February 26, 2019.
10 ways to bring your whole self to work, even when you're having a bad day, Mary Mazzoni, Conscious Company, March 15, 2018.
Understanding implicit biases: what they are and how to work with them
Understanding different perspectives
Changing mindsets
Engaging all of us
ACTIVITIES
FACILITATOR
DATE, TIME, AnD LOCATION
WEEK ONE

Artful Inclusion

Sue Russell

Thursday, February 6th, noon-1:00pm, HR Conference Room

Location: Office of Human Resources, 4th Floor, Peace Health North, 677 East 12th Avenue (map)

Guided tour of JSMA's Resistance as Power: A curatorial response to Under the Feet of Jesus
Exhibition curators

Friday, February 7, 3:00-4:00pm, Jordan Schnitzer Museum of Art (map)

** There are a few copies of Under the Feet of Jesus by Helena María Viramontes still available.

WEEK TWO
Women, Language, and Power - presentation by Melissa Baese-Berk, UO Associate Professor of Linguistics
Jane Brubaker and Sara Yilmaz

Monday, February 10, 10:30am-11:30am

SRS EOC Room 271 large conference room, 1715 Franklin (map)

Guided tour of Racing to change: Oregon's Civil Rights Years - The Eugene Story

Ali Litts (exhibition docent)

Friday, February 14, 1:00-2:00pm, Museum of Natural and Cultural History (MNCH)

WEEK THREE

Guided tour of Racing to change: Oregon's Civil Rights Years - The Eugene Story (repeat tour)

Exhibition docent, with Jane Brubaker

Tuesday, February 18, 11:00am-noon, Museum of Natural and Cultural History

Guided tour of Racing to change: Oregon's Civil Rights Years - The Eugene Story (repeat tour)

Exhibition docent, with Jane Brubaker

Wednesday, February 19, 2:00pm-3:00pm, Museum of Natural and Cultural History

Many Nations Longhouse tour and discussion with Katie Staton, steward
Many Nations Longhouse steward, with Sue Russell

Friday, February 21, 11:00am-12:00pm, Many Nations Longhouse (map)

Artful Inclusion (repeat hands-on activity)
Sue Russell

Friday, February 21, 3:00-4:00pm, Lokey Education 116

WEEK FOUR

Rehearsals for Life workshop

Rehearsals for Life

Tuesday, February 25, 2:30-4:00pm, Anstett Hall 191

Charged Words - a discussion
Jay Butler

Friday, February 28, 10:00-11:00am, Esslinger Hall 112 (map)
The University of Oregon is strongly committed to providing access and reasonable accommodation in its services, programs, activities, education and employment of individuals with disabilities.  Requests for disability-related accommodations for events, including sign language interpreters, should be made to
vpfa@uoregon.edu
. We ask that requests for accommodation please be made at least five business days before the event.
Events
CAMPUS EVENTS
*Black History Month events marked with an asterisk*
Wednesday, February 5, 6:30-8:00pm: Women Voters: Race, Gender, and Dynamism in U.S. Presidential Elections, talk by Jane Junn, professor of political science and gender and sexuality studies at the University of Southern California. William W. Knight Law Center, 175
Thursday, February 6, 12:00-1:30pm: Finding light born in darkness - the urgency of feminist activism in these times, by Dr. Sylvanna M. Falcón, Associate Professor at UC Santa Cruz, Knight Library Browsing Room
*Thursday, February 6, 2:00-2:50pm: Blatinx - What is Afro-Latinidad and who gets to claim it?
Saturday, February 8 & Sunday, February 9, 12:00-6:00pm: Queer Film Festival, EMU, Redwood Auditorium
*Monday, February 10, 4:30pm (pre-lecture reception), 5:30pm lecture: The Permanence of Racism: Race, Power & the Architecture of American Democracy, Guy-Uriel E. Charles, Law School room 175, RSVP*
Wednesday, February 12, 5:30-7:00pm: Stoking the Fire - Nationhood in Century Cherokee writing, by author Kirby Brown. Knight Library, Browsing Room
Thursday, February 13, 12-1:30pm: Witnessing Violence in these Migratory Times, Annie Isabel Fukushima, Knight Library Browsing Room
Thursday, February 13, 6:00 pm: Myth-Busting: The Truth about Multi-lingualism. Diamond Lake Room, EMU 119
Monday, February 17, 5:00pm: Design for Spatial Justice lecture series, Marlon Blackwell and Cory Parker, 206 Lawrence Hall 
Wednesday, February 19, 4:30pm: Explorations of an increasingly diverse America, author and professor David Mura, Knight LIbrary Browing Room.
*Wednesday, February 19, 5:30-7:30pm: The State of Blackness at UO. Sponsored by the Black Cultural Center & Black Studies. Black Cultural Center*
*Thursday, February 20, 3:00-5:00pm: Being Black and in a Labor Union. Sponsored by LERC. Black Cultural Center*
Thursday, February 20, 3:30pm: Decolonial Environmentalisms: Race, Genre, and Latinx Literature, by UO professor David Vasquez, EMU 119
*Thursday, February 20, 6:00-7:30pm: The Civil Rights Movement & the Notion of Turn the Other Cheek. Sponsored by the Koinonia Center and the NAACP. Black Cultural Center*
Thursday, February 20, 6:00-8:00pm: On Art, Camp, and Human Sacrifice (A Lecture), with Anthony Hudson/Carla Rossi, Museum of Natural and Cultural History (free with UO ID)
Through Thursday, February 20: Blake Little - Photographs from the Gay Rodeo. Museum of Natural and Cultural History (free with UO ID)
Through Sunday, February 23: Resistance as Power - JSMA curatorial response to Under the Feet of Jesus (UO Common Reader). Jordan Schnitzer Museum of Art (free with UO ID)
Tuesday, February 25, 11:00am: All Sizes Fit art gala, EMU Crater Lake North
*Thursday, February 27, 8:00pm: Black History Month men's basketball game, Matthew Knight Arena*
*Friday, February 28, 8:00pm: Black History Month women's basketball game, Matthew Knight Arena*
*Saturday, February 29, 6:00pm: Black Law Students Association History Month Banquet, Ford Alumni Ballroom (tickets required)*
Through Sunday, September 13: Racing to Change – Oregon's Civil Rights Years—The Eugene Story, Museum of Natural and Cultural History (free with UO ID)
COMMUNITY EVENTS
*Black History Month events marked with an asterisk*
*Tuesday, February 4, 7:30pm: Beyond Buzzwords: Reimagining the Default Settings of Technology and Society, by Ruha Benjamin, Associate Professor of African American Studies at Princeton University. First United Methodist Church, 1376 Olive St., Eugene*
*Wednesday, February 5, 6:00pm: Ideas on Tap: Race, Democracy, and Boundaries of Belonging, UO political scientist Debra Thompson. Viking Braggot Co. Southtowne 2490 Willamette Street, Eugene*
*Friday, February 7, 5:30-7:30pm: Blacks in Government - Honorable Magistrate Judge Mustafa T. Kusubhai, Graduate Eugene Hotel, 66 E 6th Ave (reservations required)*
*Friday, February 21, 6:00-9:00pm: Eugene-Springfield NAACP Freedom Fund Dinner, Valley River Inn (ticket purchase required)*
Other VPFA Inclusion Initiatives