VPFA Ducks for Diversity!
Create diversity-related events and trainings without worrying about financial barriers! Apply for a grant in less than three minutes.
Anti-Racism Event Ideas
Depending on your audience, you could have your meeting materials put into Spanish or even have your meeting interpreted so it is available in English and Spanish.
The VPFA portfolio is running a pilot project in 2022-2023 with Go Global so VPFA departments can access the VPFA Ducks for Diversity fund to cover the costs of Spanish interpreting and translation needs. See the flyer below or contact Debbie Sharp (dsharp@uoregon.edu) for details.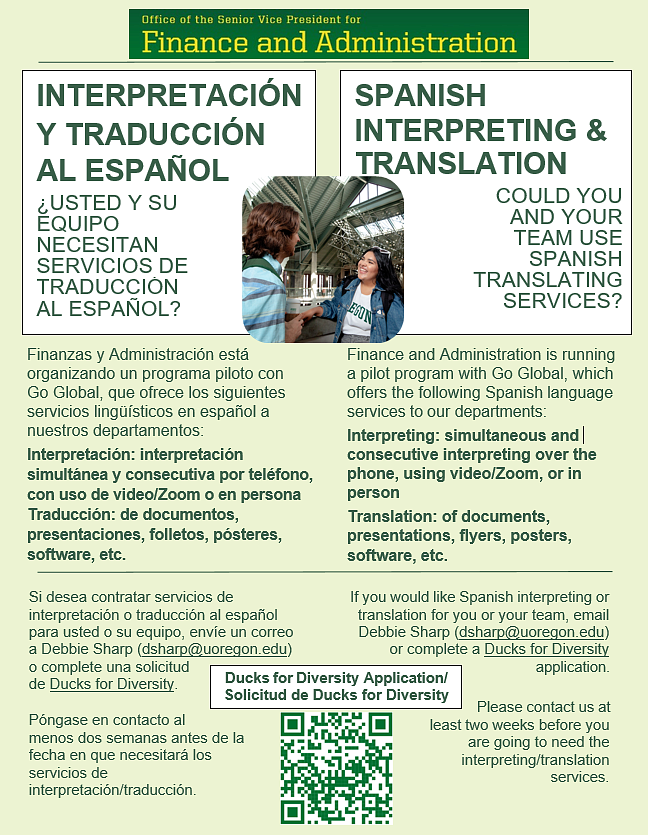 Our Purpose
Increase the number of diversity-related events and trainings, particularly those with an anti-racism focus
Empower individual employees to choose or develop events and trainings 
Enhance diversity education and understanding of anti-racism ideas within Finance and Administration
    Who's Eligible
All current employees within VPFA/Finance and Administration
For university-wide initiatives, the proposal team must include at least one member of the VPFA portfolio and the impact of the initiative should directly benefit VPFA portfolio employees.
---
Proposal review process
Fill out the Qualtrics survey – Have questions while filling out the survey? Review the FAQs below or contact VPFADiversity@uoregon.edu / 541-346-3096. 

Get approved – The proposal review committee will work with the team or individual that submitted the original proposal to clarify any outstanding items before bringing the proposal to the VPFA diversity committee for review and approval.

Figure out the details – Finalize expected costs and plan the event!
---
See photos from past events
Frequently asked questions
About the proposal and submission process
Are there deadlines for proposals?
Submissions are reviewed as received. There are no specific deadlines--apply when you are ready.
I have an idea but don't know where to start. How do I get help?
We are happy to chat with you to help plan out your ideas. Talk with your diversity committee representative to get started. You can also email VPFADiversity@uoregon.edu (Debbie Sharp) for help.
What is the maximum amount we can apply for?
We encourage projects with large and small budgets. We are looking to maximize impact and engage various people across the VPFA portfolio; the specifics of each proposal will dictate the required financial resources. If you are unsure, please contact your diversity committee representative or VPFADiversity@uoregon.edu (Debbie Sharp).
Is there any financial responsibility or matching required?
No matching or cost-sharing is required.
Can I team up with people in other departments?
Partnerships with people in other departments (whether they are in Finance and Administration or not) is encouraged but not required.
What kind of initiatives will be funded?
All creative diversity-related and anti-racism ideas will be reviewed, which may address concepts related to race, ethnicity, disability, national origin or citizenship, gender, religious affiliation or background, sexual orientation, gender identity, economic class or status, political affiliation or belief (this list is not exhaustive). Initiatives might include conducting a book club; inviting a speaker to campus; buying and deploying training materials (books, videos, software); hosting a heritage potluck or attending a conference to enhance skills around issues of equity and inclusion. Initiatives should:
Increase the number of diversity-related and anti-racism events and trainings
Empower individual employees to choose or develop events and trainings
Enhance diversity and anti-racism education within Finance and Administration
About the review process
What criteria are you using to assess our proposals?
Proposals will be assessed based on total diversity-related impact to VPFA portfolio employees. Some proposals might aim to benefit a lot of employees and other proposals could benefit only a few but in a deeper way; each proposal will be assessed on its merits.
Is there a minimum number of VPFA employees that should benefit from the initiative?
There is no minimum number, though as part of your submission the review committee would like to know how many people you expect to benefit from your diversity-related initiative. 
How long will it take to hear back from the review committee?
The review committee is committed to responding within 2-4 weeks of receiving the application.
If our proposal is successful
What are the evaluation and reporting responsibilities?
It is important to try to assess the impact of your efforts. When your funded initiative is complete, someone from the VPFA diversity committee will be in touch for an informal discussion on how everything went.
If our proposal needs more work
What happens if the proposal is not approved?
The review committee is interested in supporting creative ideas to improve diversity across the portfolio. We'll help you to develop your idea to make it work!